What's The Beachbody Challenge™?
It's a health and fitness transformation CHALLENGE! Commit to get fit, Stay accountable in our Group Page and share the results you achieve with any Beachbody® program!
YOU GET COMPLETE GUARANTEED RESULTS HERE >>
FITNESS PROGRAM + NUTRITION + SUPPORT = SUCCESS!!
IF I'M CHOSEN, WHAT'S INCLUDED?
1) You will be in my EXCLUSIVE CHALLENGE GROUP of 5 people + ME!
2) You will receive a CHALLENGE PACK *see details below*  (choose from 3 packs)
3) You will be eligible to WIN PRIZES in the BEACHBODY CONTESTS!!
EXCLUSIVE CHALLENGE GROUP :
This challenge group would only have 5 MEMBERS… I WOULD BE YOUR ACCOUNTABILITY LEADER. We will have a "CLOSED" GROUP only for our 5 Members where you'll receive DAILY ACCOUNTABILITY from the other 4 members PLUS individual coaching from ME for free! Each member is required to CHECK-IN daily to make sure you are following the challenge (i.e., working out and eating right) I will SET YOU UP FOR SUCCESS!
>>  Want me to help you LEAD your own Fitness Challenge group with your Friends?  just ask!!
>> Want to earn up to $350 for starting your Fitness Challenge group?  just ask me!!
CHALLENGE PACKS :
Every member of the group will select 1 of the 3 CHALLENGE PACKS which include >
1) Fitness Program
2) 30 Day Supply of Shakeology MEALS
3) 1 Month Free Beachbody Club Membership
**Because each member will have a different starting weight and goals, the Club Membership provides customized meal plans + online tools specific to YOUR goals to get you the BEST possible results! Even better… By being a CLUB member you will actually SAVE 10% on ALL of your Beachbody purchases!!!
We all start our program on the SAME DAY and ALL MEMBERS ARE REPLACING ONE MEAL A DAY WITH SHAKEOLOGY (& yes, if you do not have Shakeology, that would mean you would have to be willing to invest in it… because if I am going to invest my time in working with you one on one… I need to know that you are willing to invest in your own health first!)
BEACHBODY CONTESTS AND PRIZES :
YOU CAN WIN over $100,000!
Daily Prizes*: $500
Monthly Prizes: $1,000
Quarterly Prizes: $5,000 and an expenses-paid trip
The Grand Prizes: $100,000!
Here's how to enter:
STEP 1: REQUEST ME AS YOUR PERSONAL COACH!
If you have not already, you will need to officially sign up to have me as your coach ~and register to join Team Beachbody!
**What if I already have an account but I want you to be my coach? Simply, copy/paste this message and send it to request me>>
TO: customerservice@teambeachbody.com
Cc: kyhord@yahoo.com
RE: Coach Assignment Request
Please assign Kristia Hord, Coach ID#34236 to be my coach immediately. My existing customer ID# is _____________________ (if you don't know your ID# let me know and I'll help you locate it!)
STEP 2: SELECT YOUR CHALLENGE PACK
I will WALK YOU THROUGH this process via the phone or in person as we discuss your specific goals!! ALL ORDERS MUST BE placed on the "ORDER ON" date listed above in order to RECEIVE your pack before the Challenge Start Date!!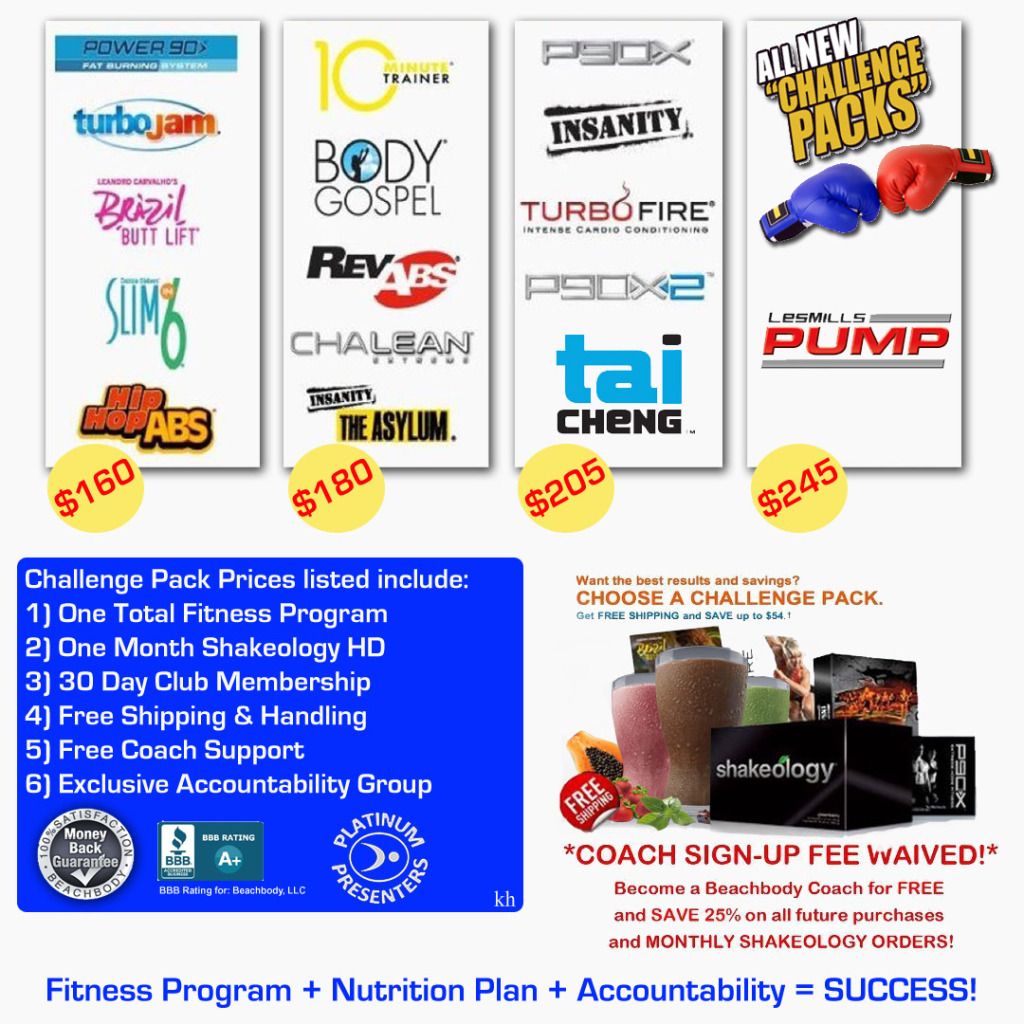 STEP 3: ENTER THE BEACHBODY CHALLENGE CONTEST ONLINE! Go To: http://turbochick.com and CLICK on the Beachbody Challenge Ad Banner at the bottom right-hand of the screen!
***COMMIT TO GET FIT — get a FREE WRISTBAND
Tell us which fitness program you plan to follow, state your goals, and start tracking your progress. You'll want to take a "before" photo to remember what you looked like and submit your results when you're finished. For making this simple commitment, we'll send you a FREE WRISTBAND.
(It's okay to skip step 1 if you're already in shape and want to submit your fitness results.)
***SUBMIT YOUR RESULTS — get a FREE T-SHIRT
Got results from your Beachbody program? It's time to submit your transformation story. Send us your "before" and "after" photos, transformation stats, and tell us your story. We'll give you a FREE T-SHIRT and you'll have a chance to win additional prizes.
YOU CAN WIN up to $100,000!
If your entry is selected as the top transformation in your age and gender category for the month in which you entered, you'll win $1,000 and a shot at the Grand Prize.
Plus you'll have a chance to win:
Daily Prizes: $500 just for logging your workouts in the WOWY
SuperGym® after you commit to get fit or submit your results.
Quarterly Prizes: $5,000 and an expenses-paid trip
Bonus prizes for drinking Shakeology® during your transformation.
I will be giving these 5 MEMBERS my cell phone number for anytime support and you BETTER BELIEVE I will be calling YOU if you don't hear from you on the boards!
This IS a commitment… ON MY PART and YOURS… Hence why I said that the people selected would NEED TO BE READY to SERIOUSLY change their lives! But I do believe it could be something that will not only make me a better coach for having gone through it… but will leave 5 people COMPLETELY TRANSFORMED at the end!!!
If you would like to be considered and are willing to make ALL the commitments above, then… what are you waiting for?!?! Write me back, RIGHT NOW and tell me that you want in this group!!!
A MESSAGE FROM ME….
Ready to WIN? LET'S GET STARTED RIGHT HERE!!